A. Business Resources
Hebron Center Market Study
The Town of Hebron and its Economic Development Commission hired Peter Fairweather, of Fairweather Consulting, to conduct a Market Study of Hebron's Business District. Over a number of years, the Town of Hebron has made a commitment to reinvest in Hebron Center to create a successful, dynamic, and walkable Town center. This study takes another step in that process. The work identified potential commercial uses that could be attracted to, or expanded in, Hebron. The study includes an analysis of the existing market potential in Hebron and the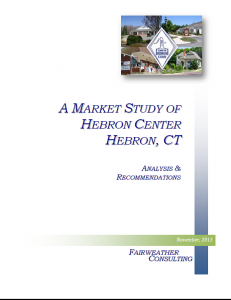 surrounding area, and includes a "benchmark" of Hebron against other downtown centers to better understand the strengths and weaknesses of Hebron Center. The final study identifies the types of uses for which Hebron Center has a competitive advantage and an action plan to attract those uses to the Center. The consultant and the Economic Development Commission, through a number of forums, reached out to businesses and other stakeholders to seek their input. You can read the Hebron Center Market Study here.
Hebron's Tax Abatement Policies
The Hebron Economic Development Commission, in conjunction with the Town Manager, Town Planner, and Board of Selectmen, helped to create a Tax Abatement Policy which pro-actively encourages new business entities to consider Hebron as their next business location or for existing businesses to further expand their operations in Hebron. Within certain guidelines, considerable advantages may exist for any business to grow within our community. Applications must be made in advance of submitting applications to our Land Use Commissions. The Board of Selectmen has some flexibility in granting abatements on a case by case basis.
For a complete copy of the Tax Abatement Policies, feel free to contact the Town Planning Department or the Hebron Economic Development Coordinator at hedc@hebronct.com .
For a copy of the Town of Hebron's Economic Development Incentive Program and Application, click on the links below:
ECONOMIC DEVELOPMENT INCENTIVE PROGRAM.Revised April 6 2017
Economic Development Incentive Program Application
Hebron's Economic Development Marketing Brochures:
Hebron: Open For Business:
The long-term vision of our community is for desirable country living complemented by a vibrant and thriving business center to serve residents and attract visitors. Click on the following link to read our new economic development promotional brochure and see that Hebron is Open for Business.
Grow Your Health & Wellness Practice In Hebron !
Hebron's recently completed Market Study identified key business sectors that could best succeed and thrive in Hebron. The Health and Wellness sector was one of these key segments of the economy that was targeted as Hebron has grown into a town of well-educated and health conscious residents where household spending on Medical Care is 71% above the national average. Click here for a copy of the new Health & Wellness Marketing Brochure.
Restaurant and Fine Dining Opportunities in Hebron !
The Hebron Center Market Study identified Restaurants and Fine Dining as an industry segment that has an identified current demand in the Hebron market. The Study documented that Hebron residents spend significant dollars on out-of-town restaurant destinations and there is a demand for more of these establishments in-town. Click here for a copy of the new marketing brochure for Restaurants and Fine Dining.
Hebron Business Networking Meetings:
Have you attended our Business Networking Meetings sponsored by the Economic Development Commission? These are held every other month at a local business where we learn more about that host business and meet fellow Hebron business owners as well as Town officials. A great way to support each other and foster communication. Contact Hebron's Economic Development Coordinator to be notified of the next event at (860) 455-8251 or send email to: hedc@hebronct.com
Please join us for our next Business Networking Meeting at Gina Marie's Restaurant at 6:00 pm on January 29th!
EDC / Business Newsletter:
Click on the link for the latest copy of the Economic Development Commission newsletter, our electronic newsletter to the Hebron Business Community. January 2018 EDC Newsletter . Read about our next Business Networking Event on January 29th.
Hebron Demographic Information:
The following links will provide you with important demographic information on the Town of Hebron and the surrounding area that may be helpful as you make your decision:
Town of Hebron Resources:
We have included a number of links below to connect you to some valuable Town information that may assist you in your decision making. And, if you need additional information, contact us directly with the emails provided below and we will be happy to help you:
The following personnel are key Town of Hebron professional staff that can assist you:
State of CT Small Business Express Program:

Click here for information on loans and potential grants now being offered by the State of CT specifically for small businesses to assist with growing your business!
Additional Town, State and Regional Resources:

Douglas Library
Metro Hartford Alliance
Capital Region Council of Governments
Connecticut Economic Development Association (CEDAS)
Connecticut Department of Economic and Community Development (DECD)
Windham Regional Chamber of Commerce
Interested in doing business in Hebron?
Contact:
John Guszkowski, Hebron Economic Development Coordinator
860.455.8251
hedc@hebronct.com
or at:
CME
33 Wilbur Cross Way, Suite 105, Storrs, CT 06269