Community Events


Hebron Earth Day – Community Clean Up
Come and celebrate Earth Day at Veterans Memorial Park and Burnt Hill Park. We are looking for people to help clean the park by picking up garbage to preserve our environment in Hebron. Everyone interested in volunteering should meet at our Park and Rec offices at Burnt Hill Park at 9:00am. Garbage bags and gloves will be provided.
Dates:       Saturday, April 22, 2017
Location: Burnt Hill Park
Times:      Starts at 9:00 am, rain or shine
Fee:          Free
Pitch, Hit & Run
Kids!  Come out and test your baseball and softball skills in the MLB Pitch, Hit and Run Event! MLB Pitch Hit & run is for boys and girls ages 7 through 14. Participants will compete individually will have the opportunity to compete in four levels of competition including Locals, Sectionals, Team Championships and National Finals.
Dates:      May, 5, 2017
Location: Burnt Hill Park
Times:  5:00 – 7:00pm
Fee:           Free

Track & Field           
Children ages 9 and 14 will have the opportunity to participate in events, such as running, jumping and throwing, which emphasizes participation, friendship and sportsmanship. Events include the 50-meter dash, 100 meter dash, 200 meter dash, 400 meter dash, 800 meter run, 1600 meter run, 4×100 meter relay, standing long jump, and softball throw. Contestants can participate in two field events and one running event or two running events and one field event. The top finisher in each event will receive an award. Registered participants from Hebron Elementary School between the ages of 9-14 years old will be granted permission to leave school early will be bussed to RHAM High School Track. Parents must pick up their children after the event. There is no busing back to Hebron Elementary after the event.
Location:   RHAM High School Track
Age       Day    Time     Date    Fee
9-14       TH       3:00P    5/25      Free

National Trail Days  
In celebration of National Trails Day, Hebron, Colchester and East Hampton are teaming up to have activities/stations planned along the Airline Trail. Walk, jog, bike or ride a horse along the 10 mile stretch that covers all three towns. Stations include; bike maintenance, trail history, nature interpretation, land conservation, arts/crafts, viaduct history and trail safety.
Location: Airline Trail
Age          Day     Time                  Date        Fee
All Ages   SA       10:00-12:00P     6/3           Free
Community Garden
The Parks and Recreation Department has developed a "Community Garden" at Burnt Hill Park. A Community Garden can be Flowers or vegetables. These gardens can produce nutritious food, preserve green space and improve quality of life for the people in the garden.   If interested in gardening call Parks & Rec for more details. There will be a small fee and there are limited openings for gardening plots. Gardening will start after the last frost after Mother's day. Call today and get your name on the list. Fee: $15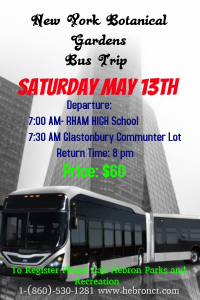 Bus Trip New York Botanical Gardens, Bronx New York
The New York Botanical Garden, one of America's foremost public gardens, spans 250 acres and includes 50 different gardens and plant collections. Features include the Bronx River and cascading waterfall, 50 acres of historic forest, and the Enid A. Haupt Conservatory, one of the largest Victorian glasshouse in America. Visit the Peggy Rockefeller Rose Garden; see outstanding collections of daylilies, flowering trees, and conifers; and enjoy the Everett Children's Adventure Garden, with 40 hands-on activities for children.
Age          Day     Time                      Date        Fee
All Ages   SA         7:00A-8:00P          5/13          $60
****Pick up RHAM Middle School 7:00 AM
****Pick up Glastonbury Commuter lot 7:30AM
4th Annual Hebron Day
Join the Parks and Recreation Department and community in celebrating all that the town of Hebron has to offer. Hebron Day includes a number of activities, entertainment, and vendors, from inflatable's to pony rides, face paint, live music, entertainment, local businesses, arts and crafts vendors and much, much more. Located at Burnt Hill Park, our 3rd Annual Hebron Day will be a fun farewell to summer!
Date: Saturday, August 26, 2017
Time: 11pm – 4pm
Fee: Free
If you are interested in being a vendor or sponsor for Hebron Day – please contact the Parks and Recreation Department.

Hebron Day – 5K Road Race
Saturday, August 26, 2017 Hebron Parks & Recreation Department will be hosting our 25th Annual 5K Road Race. The Hebron Road Race is a rolling course that loops around and within the town of Hebron's quaint town green and neighboring areas. This is a beautiful area with forests and farmlands; and 100% paved roads – a certified 5K. The race is chipped and all runners will receive a race shirt. Race starts at 9:00 am rain or shine.
Registration forms can be found at www.hebronct.com
Dates:       Saturday, August 26, 2017
Location: Burnt Hill Park
Times:      Starts at 9:00 am, rain or shine
Fee:           $28.00 before 8/6/17
                    $35.00 after 8/27/17 and day of race
Six Flags, Lake Compounce, and CT Science Center 2017 Tickets
Looking to spend the day at Six Flags or Lake Compounce, come to the Parks and Recreation Department and purchase discounted tickets for family and friends. Tickets are good any day and will be available in May.
            Six Flag Day Tickets        CT Science Center            Lake Compounce Day Tickets
Fee: $38.50                             Fee: $14.50                             Fee: $29.50