Youth Programs
After School Art
Join Deb Pierce for 8 weeks of creative exploration. Participants will have the opportunity to use a variety of materials and try many different media in a relaxed instructional setting. Painting, sculpting, drawing, crafting and a season project will be presented throughout the session.
Location: Art Room at Gilead Hill School or Hebron Elementary School
Grade Day Time Date Fee
3-6 M 3:15-4:45P 3/26-6/4 $90.00 No classes on 4/9,4/16, 5/28
1-2 TH 3:15-4:45P 4/5-6/7 $90.00 No class on 4/12, 4/19 NEW DATES
---
Ultimate Frisbee Club
Ultimate Frisbee is one of the fastest growing sports in the country and
RHAM has decided to jump on the bandwagon. The Ultimate Frisbee
club is a co-ed club that is open to all students and meets two days a
week during the spring semester. Students will learn the fundamentals
of the Team as well as the importance of team work. This club is a great
way to meet other students, get a good work out and most importantly
have fun.
Location: Veterans Park
Grade Day Time Date Fee
9-12 T/Th 2:30-4:30PM 4/3-5/31 $12 (includes 2 bus rides)
---
Hebron Youth Running Club
Get up and get out! Join Marianella and Scott Chalfant
for this spring's session of the Hebron Youth Running Club, one of the fastest
growing youth organizations in Hebron. We will introduce your kids to running
at an early age in a fun way to develop healthy habits that will influence
them for life. In addition to improving physical fitness, running enhances self esteem,
confidence, focus and energy levels. Kids (and adults) participate in
weekly workouts that will be tracked throughout the year. Kids show off their
progress with cool necklaces and toe tokens, and t-shirts are provided to all
participants.
Location: Hebron Elementary School
Age Day Time Date Fee
5-12 T 6:00-7:00 4/24-6/13 $10 (8 weeks)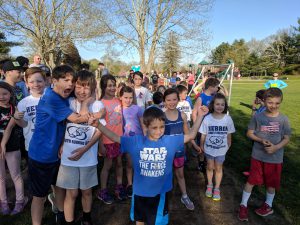 MAD SCIENCE SUMMER PROGRAMS
Brixology: Engineering with LEGOTM
Mad Science engineering program with LEGOTM Bricks
Brixology sets the foundation of our next generation of makers! Kids learn about different types of engineering and then team up to construct a different engineering-themed project using LEGOTM bricks. They learn about aerospace engineering while assembling a space station. They explore mechanical engineering as they build boats and vehicles. That's not all, from carnival rides to drawing machines, mechanical animals to truss bridges; your future engineer will build upon their creativity to solve real-world design challenges, while developing their problem-solving and team-building skills. Let the tinkering begin!
Location: GHS GYM
Age Day Time Date Fee
Grades 1-5 M-F 9:00-12:00P 8/6 – 8/10 $165
Rockin' Robots
Children will step into the shoes of rocket scientist and learn the fundamentals of flight, propulsion and rocket propulsion; We'll have fun exploring astronomy and trying out various flight designs from hot air balloons to hovercrafts (and many more!). "Launch Day" will bring real excitement to your budding astronaut! Kids will build rockets as well as discover the fundamental concepts involved in launching and recovering many different types of rockets. Students will make and take home their own complete mad science rocket.
Location: GHS GYM
Age Day Time Date Fee
Grades 1-5 M-F 1:00-4:00P 8/6 – 8/10 $165
Mad Science Special!
If registered for both Brixology and Rockin Robots labs participate at a discounted price.
Fee for both camps is $290/student
---
Youth Camps
Performing Arts Camp
Explore the dramatic arts in a safe, fun, highly-charged setting, with classes in acting and dance. Afternoons will focus on rehearsals for the end of the week show on Friday at 1:30pm.
Location: GHS GYM
Age Day Time Date Fee
6-11 M-F 9:00-2:30P 6/25-6/29 $220 resident/$225 Non Resident
---
Clay Workshop
Boys and girls will spend this workshop exploring clay with Gilead Hill School art teacher Susan Giammarco. Projects may include but are not limited to: tile-making, clay animals and clay and natural materials. Students will learn sculptural techniques as well as kiln safety. Part of these classes may be spent outside and projects may vary depending on the weather. Please bring water, a snack, sun screen, bug repellent and dress appropriately for outdoor activities.
Note: Special Schedule to allow for glazing and kiln firing. Due to kiln firing schedules, projects will not be ready for two weeks after the workshop has ended. Pick up dates will be announced via email.
Location: Gilead Hill School Art Room
Age Day Time Date Fee
5-12 M-F 9:00A-12:00P 7/30-8/2 and 8/7 $250