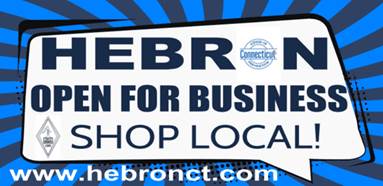 Connecticut Children's Medical Center Coronavirus Hot Line 1-833-226-2362
Connecticut Children's Medical Center Coronavirus Information
How are you feeling today? Please check in now: HOW WE FEEL
TOWN OF HEBRON
COVID-19 EMERGENCY INFORMATION
TOWN OFFICES OPEN TO PUBLIC: Effective Monday, April 5, 2021, the Hebron Town Offices will re-open to the public. The public is encouraged to continue to conduct business electronically, by mail or drop boxes located in front of the Town Office Building and Horton House. Visitors will be required to wear a mask, sign in and social distance.
• The Town Clerk's office is providing all services electronically or by appointment. Our office has resumed regular office hours but continue to rotate staff in an effort to protect those in a high risk category and to support public health. Many of our services are available online and we are here to help you with your specific needs. Call our office with your questions or to make an appointment for an essential service during this temporary situation, 860-228-5971 x124.
• The Hebron Transfer Station will be open regular hours: Tuesday, Thursday and Saturday 7:30 a.m. – 4:00 p.m., Sunday 7:30 a.m. – 2:00 p.m. Face masks and social distancing are required to enter the facility.
Due to the recent increase of COVID-19, the Recycling Center/Transfer Station attendants will no longer be handling currency. We request that fees be deposited by residents in the drop box provided. Please bring exact change or fees will be rounded up to the nearest $5 increment.
• All Hebron parks, playscapes, the skatepark and trails are open.
• Senior Center Congregate meals have been temporarily suspended.
• Home delivered meals program would continue with the following precautions – volunteers will leave meals at the door of the recipients' homes without having direct interaction between the volunteers and the recipients.
• All social services will continue to be provided (information and assistance, public benefits counseling, CHOICES counseling, etc.) employing appropriate social distancing and precautions.
• Friday, March 13, 2020, at 12:00 noon the Town Manager issued an Emergency Declaration.
• March 16, 2020 at 10:00 a.m. The Town of Hebron Emergency Operations Center opened in partial activation status.
For More Information Please Call (860) 228-5971
Hartford Healthcare Coronavirus Hotline:
Please refer to the following link for advice if you have questions about Coronavirus